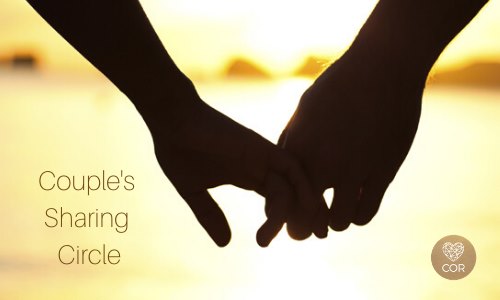 Date
May 14 2020
Expired!
COR Couples' Workshop Series – Session II
We've heard (and experienced!) that being cooped up together in quarantine is challenging. It is true that during times of stress, it is often our closest relationships that suffer the most, but this does not mean it has to be that way.
So we've designed a Couple's Workshop Series, to provide you with simple and effective tools to help you and your partner cultivate a relationship that's a source of support, comfort and stability.
You can attend just one or all of the evenings as each session will offer a new and stand alone communication tool. We recommend attending as many evenings as an opportunity to deepen in the practice of connection in your relationship. . See how the challenges in your partnership can turn from being salt in the wounds into an opportunity for healing balm.
Come with your beloved and attend these mini-workshops, led by COR facilitators, as an opportunity to cultivate a sense of depth, intimacy, open-heartedness, and connection with each other. We know that so much is stirring right now, so this is dedicated time to come back home to one another.
This is a workshop for people in a committed relationship. Although this would work for couples in different locations, it is not conducive to singles. You are also welcome to pass this invitation on to your couple friends who could use the opportunity to continue to cultivate love, intimacy, and connection with each other.
Join COR's Co-Founders, Britta + Lee Eskey, on Thursday, May 14th, 5:30pm-7:30pm Pacific Time as they lead the second session of the Couples' workshop series.
You will walk away with a powerful practice you and your partner can engage in daily to solidify your partnership and create more ease in these 'closer than comfort' times, as well as a reference point on how to be with each other in a healthy way.
The price for this event is $20 per person. Open to COR Alumni & General Public
Please complete payment via Venmo (@COR-Experience) or PayPal (info@corexperience.com) any time prior to the start of session.
To reserve your spot and get workshop logistics, please go to: https://us02web.zoom.us/meeting/register/tZ0rf-iuqD0uHNCVQCnGmUanzppDkISnR2KG