Is Your Survivor Self Running You?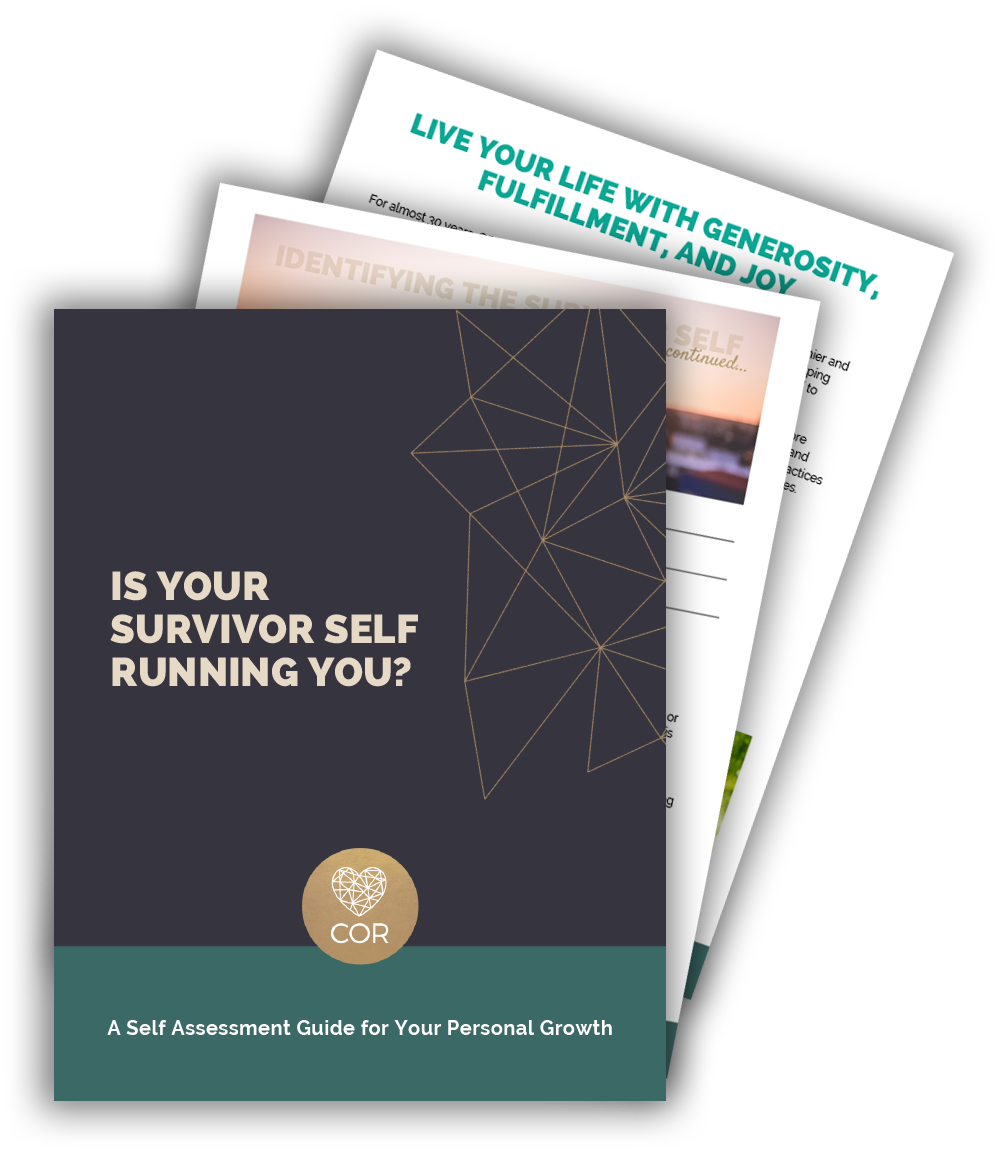 At COR, we believe as adults we sometimes act out in dysfunctional ways as a result of the wounding we experienced as children. That pain can leave us feeling unloved, unseen, or misunderstood. It makes us question whether or not we're actually good or worthy of love.
As a result of these painful experiences, we split into three distinct selves – The Wounded Self, The Survivor Self, and The Healthy Self.
When left unchecked, The Survivor Self comes to direct our lives and this causes unnecessary hurt and suffering to ourselves and those around us, often resulting in unhealthy conflict in relationships, chronic dissatisfaction with our lives, or imposter syndrome pretending to be someone you're not.
Our free guide "Is Your Survivor Self Running You?" is designed as an interactive tool to identify the core motivations that inform your behavior and help navigate your relationships with others and yourself in a healthy and fulfilling way.
This free resource is an introduction to the psychological principles and ancient practices that COR uses to help people Reveal, Reclaim, and Reconnect with their Healthy Self.
This guide will give you a new perspective and valuable techniques that will start your journey toward a deeper sense of awareness so you can begin your deep healing work that will help you feel more alive, more present, and free. 
You deserve to live authentically with love, joy, and continual growth.
Our Free Guide Will Help You:
Identify the three distinct facets of Self

Understand how past experiences influence your present actions 

Learn about the strategies you use to deal with your unresolved pain 

Gain better insights into your own self-sabotaging behaviors 

Identify the steps you need to take to foster healthier relationships 

Disarm the hidden strategies underlying your suffering — your inner pain and your fraught relationships with others
Helping people lead better lives…
Once I released the responsibility of my "together" and "polite' image, I was free to express feelings that I'd been holding inside for decades. I touched a place inside of me that had been hurting for many, many years. I felt like every single cell in my body was alive, I was tingling, shaking with power, filled with grace, and overcome with emotion.  The sensuality, sexuality and intimacy returned and I now knew how to tap into it when I wanted. The gratitude I felt was almost overwhelming.
Transform Your Suffering, Start Flourishing
For almost 30 years, COR has helped people get the tools they need to create healthier and more enriching lives. This guide will give you more insight into COR's approach to helping people experience meaningful transformation, so you can find the freedom you need to become the truest and best version of yourself.