We cultivate effective and skillful leaders and facilitators who help others become loving, engaged, and generous agents for positive change in the world.
We empower leaders with strong convictions to masterfully lead and facilitate others in becoming the best version of themselves, while leading their own life from their deepest values.
If you've found yourself being misattuned to yourself or others, or in a time of transition in terms of your purpose, let us teach you the tools to step forward in embodied leadership.
Our leadership courses, workshops, and trainings are designed to help you live your life with more meaning. They are experiential by nature and help you discover your purpose through transformational tools for living life. Some programs are offered in-person, over the course of a long weekend or a multi-month program, and some are offered online. 
We offer in-person and online programs. They are all experiential by nature, and offer a unique and effective way to understand the human condition and help humanity thrive from the inside out.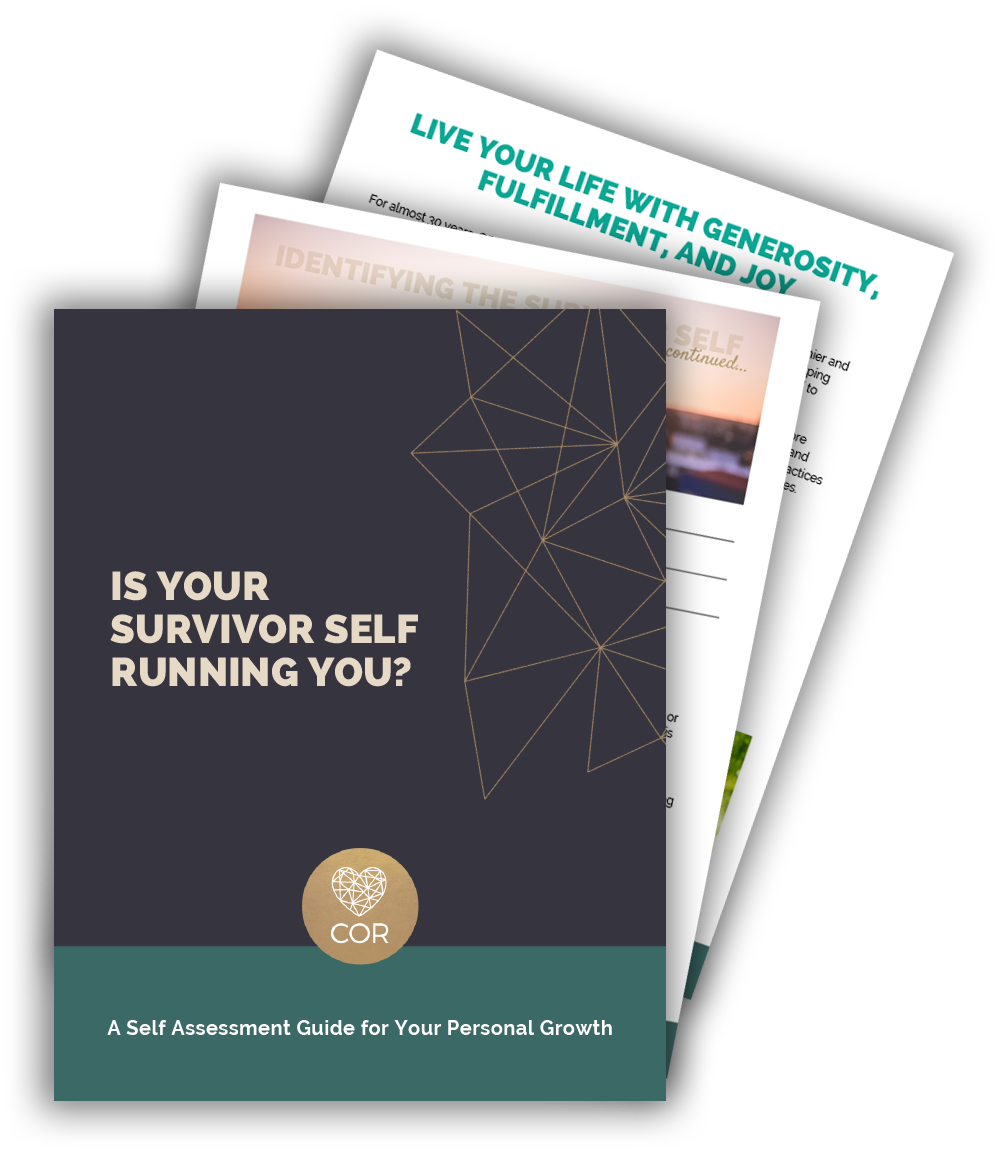 At COR, we believe as adults we sometimes act out in dysfunctional ways as a result of the wounding we experienced as children. That pain can leave us feeling unloved, unseen, or misunderstood. It makes us question whether or not we're actually good or worthy of love.
As a result of these painful experiences, we split into three distinct selves – The Wounded Self, The Survivor Self, and The Healthy Self. COR's work strengthens the Healthy Self, relaxes the Survivor Self, and heals the Wounded Self.
Our free guide "Is Your Survivor Self Running You?" is an interactive tool to identify the core motivations that inform your behavior and helps you navigate your relationships in a healthy and fulfilling way.
Here's How to Experience Our Work
We offer a variety of experiential leadership courses, workshops, and trainings. If you are new to COR, we invite you to learn about our philosophy and check out our free guide which helps you identify your core motivations. Start here.
Then, join us at:
♢ Leadership Classroom: a FREE, introductory 5-part online series to learn practical leadership tools
♢ The Edge: an online workshop to explore the ego dynamics in leadership
♢ Leadership Development Training: our acclaimed, 10-month program offered as a combination of in-person and online sessions, designed for you to discover your true gifts as a leader
In addition to our leadership offerings, we also offer incredible group courses to deepen your practices and cultivate more compassion and presence in your daily life. Check out the Courses section for available offerings.
Explore Our Leadership Offerings
In Person & Online
|
"I've experienced a lot of personal development work but nothing this powerful— so much love, safety, care, and intention. I walked in with an idea of what I wanted and came away with so much more than I could have ever imagined. Thank you for the work you do and the space you create for us to heal and become even greater people and lovers in this world."
Natalie Vartanian
Author, Relationship & Intimacy Coach, and Podcast Host
In a world of so much disconnection, disintegration and separation, we are committed to training leaders to create spaces for reconciliation, connection and loving community. 
At COR, we train leaders in a holistic way. Mind, body, heart, and soul.
We do not identify as a self-improvement organization; we believe there is nothing to "fix" about you. The journey to fundamental shifts in our lives is not about fixing anything. It is the journey of embracing all the parts of ourselves, the gold and the shadow, and allowing our pain to transform into our gift. It's re-discovering our essential strengths which have always been there but might have been forgotten through the stress and struggle of our lives. 
We believe in the essential goodness of all human beings—It's the first of our 12 Foundational Principles. 
We're different. Our work is different.  
It's grounded, practical, and highly effective, as well as liminal and trascendent. We teach tools and practices based in scientifically-proven somatic principles that help people release the past and powerfully step into the present. Our work draws on the Perennial Tradition, and both the ancient and contemporary practices of several wisdom lineages. And it's based in the heart, and in the idea that this work is best done in community. We create training spaces where all of you can be seen, and where you can see others, falling in love with yourself and with humanity all over again. This holistic approach brings you into more personal empowerment, so you can lead yourself and others with purpose.
We believe that healed hearts heal families, healed families heal communities, and healed communities heal the world.
You deserve to live authentically with love, joy, and continual growth.
Podcast
Live coaching sessions, meditations, interviews, and teachings, all available for free. Check out our latest episodes.
Calendar of Events
Check out our list of upcoming events online and in-person. 
Blog
Read teachings on the foundations of our work, personal stories of big shifts, and up to date info about our company and the work we do.
Our free guide "Is Your Survivor Self Running You?" is designed as an interactive tool to identify the core motivations that inform your behavior and help navigate your relationships with others and yourself in a healthy and fulfilling way. 
This guide will give you a new perspective and valuable techniques that will start your journey toward a deeper sense of awareness so you can begin your deep healing work that will help you feel more alive, more present, and free.
Claim your free guide below.
COR offers online and in-person workshops that help you apply timeless archetypal principles to your daily life. Change your mind, inhabit your body, deepen your relationships, renew your heart.
Once I released the responsibility of my "together" and "polite' image, I was free to express feelings that I'd been holding inside for decades. I touched a place inside of me that had been hurting for many, many years. I felt like every single cell in my body was alive, I was tingling, shaking with power, filled with grace, and overcome with emotion.  The sensuality, sexuality and intimacy returned and I now knew how to tap into it when I wanted. The gratitude I felt was almost overwhelming
Join our mailing list
Be informed of upcoming events & get informative blog posts and related articles sent to you.